"A space for silence and recollection".
This is what the Museum of Blessed Mother Carmen del Niño Jesús offers to those who visit it. In 1947, once the Canonization Process began, the small chapel that keeps the remains of Mother Carmen del Niño Jesús, attracted the attention of numerous devotees who prayed there, begging her intercession or thanking favors obtained by her means. This chapel, the place of work, the place of prayer and the small cell that served as a bedroom, are visited since that date.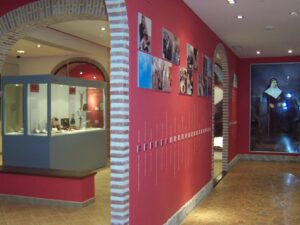 In 2006, already close to the Beatification, the chapel was expanded and modified and it was planned to enable spaces in which objects and memories of the Mother are exhibited, which the Sisters preserve and wish to offer to those who approach, attracted by devotion or curiosity. The "Museum", which opens and opens in May 2007, does not contain valuable works of art, but precious objects exhibited with good taste and much affection to offer the visitor "a space of silence and recollection"; and to bring you closer to the heart of Mother Carmen.
Contact:
Address: C. Carrera Madre Carmen, 4, 29200 Antequera, Malaga
Schedule: Every day from 16.30 to 19.00.
Phone: 952 84 12 57