Our Holy Week
From its images, mostly sculptures of great artistic value made by carvers settled in the city between the sixteenth and eighteenth centuries, to the embroidery of its cloaks and palliums, through elements of silverware and carving, which are considered capital pieces of the artistic heritage of Holy Week in our province. The processions of Antequera have a series of peculiarities that make them unique in the whole of the Andalusian Holy Week.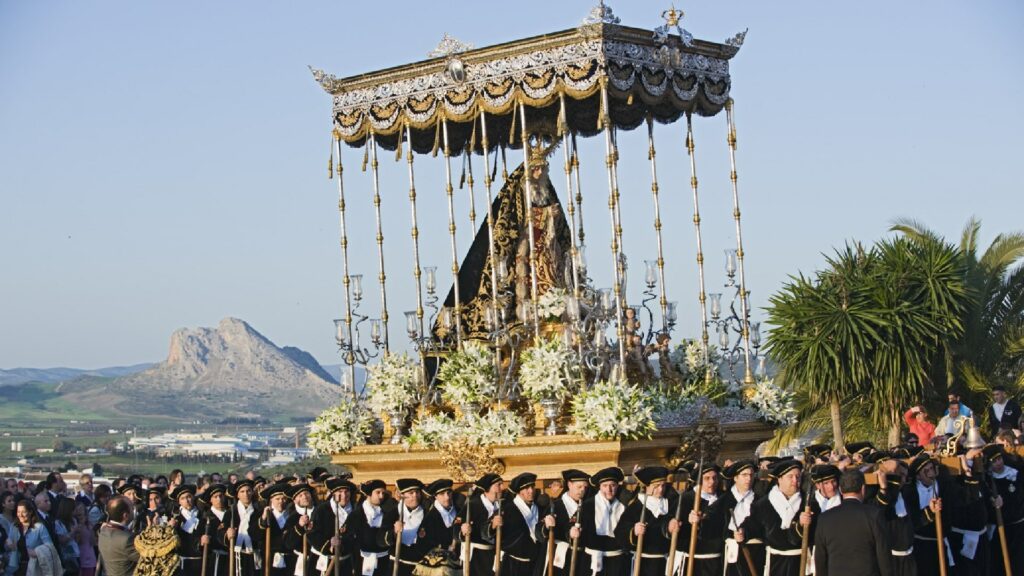 On the one hand, the steps are carried on the shoulder – unlike the costaleros – by the hermanacos, characterized by their clothing and by the use of "forks" to hold the throne when standing. At the head of them is the Elder Brother of Insignia who, standing in front of the pass, guides the brothers during the route of the procession. We must also mention another central figure of Holy Week in Antequera such as the luxury bell ringer: boy or girl of no more than eight years, usually belonging to a family of the brotherhood, who wears a velvet tunic embroidered in gold thread with a long tail. The bell ringers go with the Big Brother and their mission is to ring some bells warning that the throne is going to start walking or that it is already doing so.
On the other hand, it is worth highlighting some unforgettable moments of our Holy Week, such is the case of what is known as "running the vega", which consists of running up the thrones of some brotherhoods along the steep slopes that, at the end of the processional route, lead to the temples-headquarters. Apparently, the traditional meaning of this custom was to bless, from the hills of the city, the fertile plains that in their day were the first source of wealth of the population.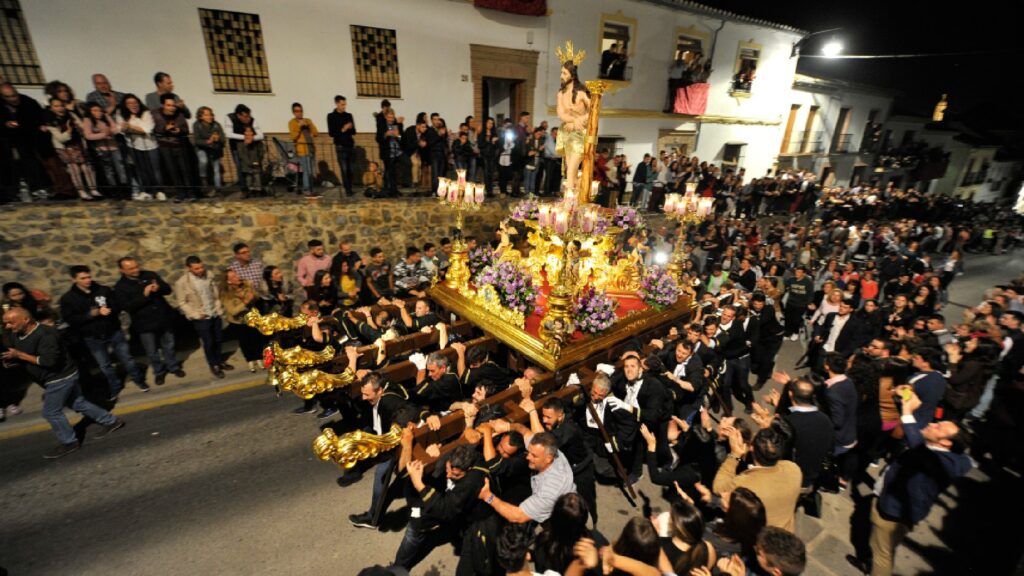 Tradition that since last December 4, 2012, has been declared a Festival of Provincial Tourist Singularity by the Provincial Council of Malaga. And another special moment that can be seen in the processions of the city is the meeting, when the thrones of the same or different brotherhood are faced as a symbol of union and congratulations for the processional route. All these characteristics and some more, such as the large pedestals of the virgins, the typology of the pallium step, the banners, etc., make Holy Week in Antequera have its own style and different from any other place.
Brotherhoods and brotherhoods
Nine are the brotherhoods and brotherhoods that perform penitential station during Holy Week through the streets of the city, distributed in this way throughout all its days:
Palm Sunday – Brotherhood of the Pollinica
Holy Monday – Cofradia de los Estudiantes
Holy Tuesday – Cofradia del Rescate
Holy Wednesday – Cofradia del Mayor Dolor
Holy Thursday – Cofradias del Consuelo y de los Dolores
Good Friday – Cofradias de Abajo, Arriba y la Soledad
Association of Brotherhoods of Antequera
Exhibition "In-Aeternum"