Discover the Palace of the Marquis of Villadarías.
Built in the early eighteenth century, its monumental cover of three bodies, in red limestone of the Torcal, is, without a doubt, the work of greatest commitment of its kind of those that were built in Antequera. There is documentary evidence that the works of the palace were already begun in 1711.
The general façade panel, which responds to unusual proportions in the palatial architecture of Antequera, organizes six fenestrated axes and three floors. The element that stands out most in it is the cover, which responds to a very baroque concept in terms of its breath, but very classic in its tectonic elements. The first body, which is the only one that invades the street widely, has four Tuscan columns with ovate capitals, which are located on plinths and in different vertical planes, being anchored with pilates cajeadas.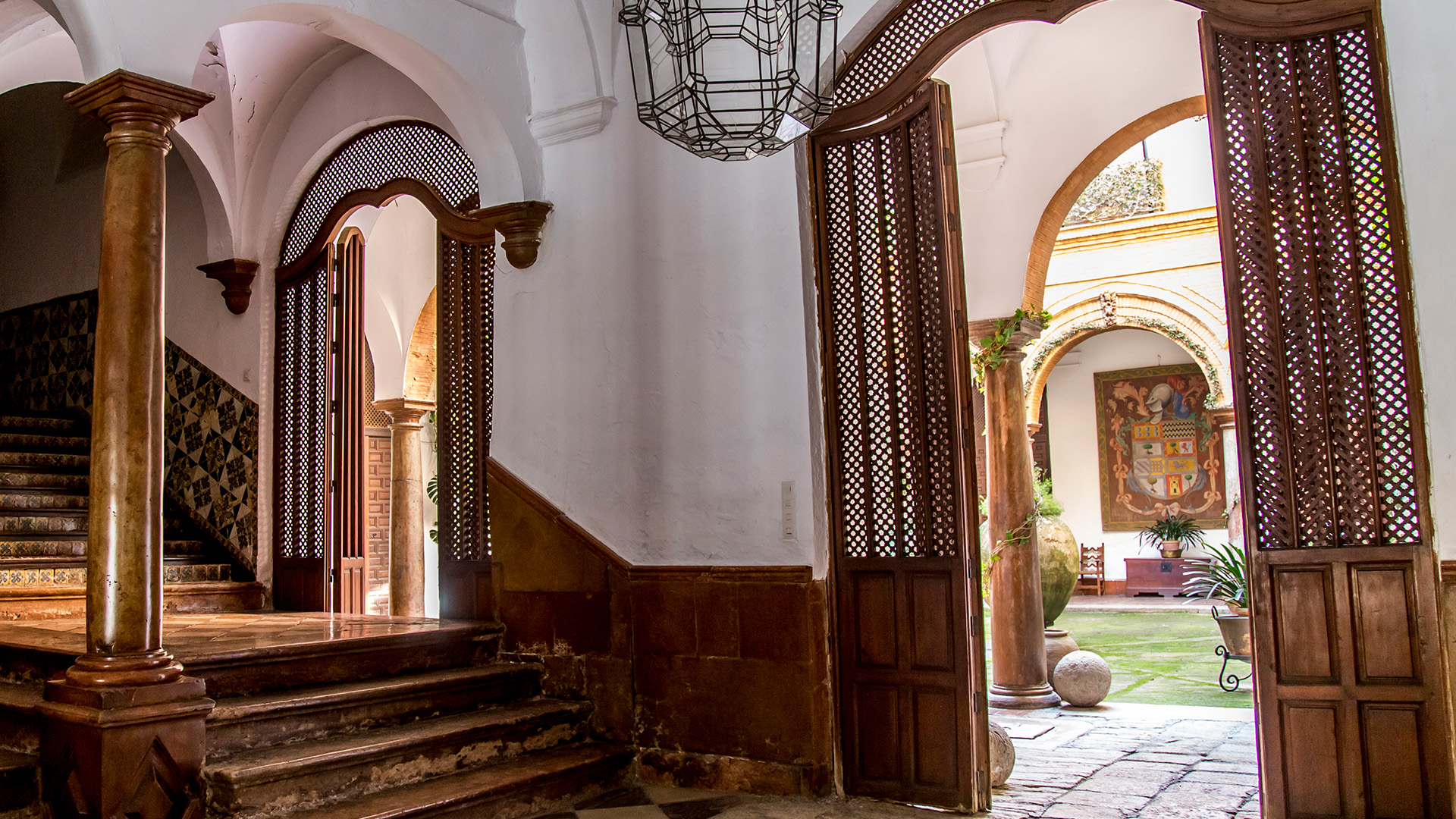 The entablature, very correctly composed, decorates its metopes with fleurs-de-lis and flat flowers. On this first body is the very large balcony. Finally, the last body of the cover is the one that is raised with greater freedom of composition, topped with curved pediment trimmed with roils and pyramids. The rest of the façade, except for the cornice that receives the roof, was remodeled in the nineteenth century with little success.
The interior of the palace is of a magnificence according to the monumental cover. The courtyard has a square floor plan and develops, on the ground floor, dances of brick arches on twelve Tuscan columns of red limestone from the Torcal. The stair box, located on the left side of the house body, has a rectangular floor plan and is covered with an elliptical vault on pendentives. The plasterwork that decorates this dome respond to models very seventeenth century.
On October 15, 2013, the Governing Council of the Junta de Andalucía agreed to register in the General Catalogue of Andalusian Historical Heritage, with the typology of monument, the Palace of the Marquis of Villadarias.
Contact:
Address: C. Lucena, 35, 29200 Antequera, Malaga