The construction must be dated to the beginning of the seventeenth century. Two floors and a large attic or surplus are articulated in its façade, which are divided vertically into five streets; Two more axles were added in a later period.
The cover is an interesting example within the civil mannerism in Andalusia. Its first body is of cushioned Tuscan pilasters.
In the second body of the cover there are cajeadas pilasters, entablature and triangular pediment decorated with studs.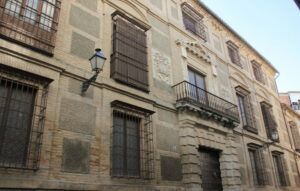 These pilasters are crowned, with large triglyphs more flown in their lower part and thresholded with drops. It is a resource very much to the taste of the Italian mannerists who drank in Michelangelo's last production.
The interior of the palace is accessed through a wide hallway, with greater spatial development to the left, and after crossing a beautiful iron gate.
The aforementioned hallway is covered with very simple coffered ceilings, placing corbels at the ends of the beams.
The courtyard is original in the whole of the local architecture, since it presents a single wing of galleries, in which three overlapping loggias are arranged, presenting Tuscan columns and semicircular arches on the ground and main floors and an architrave structure on the last.
These galleries are open to a secluded garden, remade at the beginning of our century with a certain romantic taste.
On October 1, 2013, the Governing Council of the Junta de Andalucía agreed to register in the General Catalogue of Andalusian Historical Heritage, with the typology of monument, the House-Palace of the Marqués de las Escalonias.
Contact:
Address: Pasillas Street, 27, Antequera, Malaga
" width="100%" height="450" style="border:0;" allowfullscreen="" loading="lazy" referrerpolicy="no-referrer-when-downgrade">