Discover El Caminito del Rey.
The reservoir of "El Chorro", near the municipality of Ardales and also very close to Antequera, was inaugurated by H.M. Alfonso XIII in 1921. Its offer concentrates many people attracted by its forests, its "beaches", its sports possibilities, its trails and viewpoints, its ravines and its encased rivers.
The visitor will also find in this natural space the place of the Desfiladero de los Gaitanes or Garganta del Chorro, 3 kilometers long and a height of up to 400 meters, developing where the Turón, Guadalteba and Guadalhorce rivers run together. The ecological niche that has formed this closed valley is especially important in terms of its flora and fauna of raptors. This gorge is crossed by the Caminito del Rey, a footbridge that originally served to monitor the water channel. Climbing enthusiasts will find in the Garganta del Chorro more than 300 routes equipped for the practice of this sport.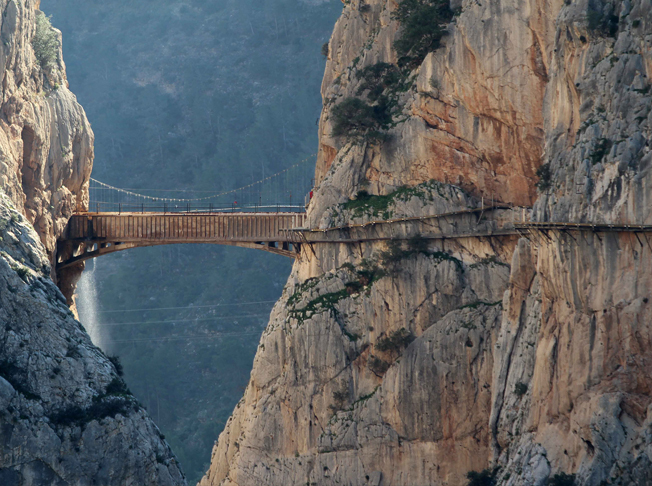 Email: info@caminnitodelrey.info
Contact:
Address: North access next to El Kiosko Restaurant, then tunnel and choose between one of the 2 exclusively pedestrian paths of 1.5 km (approximately 30 minutes) or 2.7 km (approximately 50 minutes) to reach the Visitors' Reception Hut of El Caminito del Rey.
Schedule: From 9:00 h. until 3:30 p.m. / 17:20 h. (Depending on the season)
Phone: 951 43 42 15/ 902 78 73 25
Website: https://www.caminitodelrey.info