If there is a Parador that breaks with the trend of a historic building and is a symbol of modernity, that is the Parador de Antequera. Located in a garden area of the city, it is the ideal option to relax and unwind or to celebrate any event. Its huge windows make light sneak through every corner. The beautiful sunsets and the panoramic view of the Antequera valley will make the rest and disconnection total.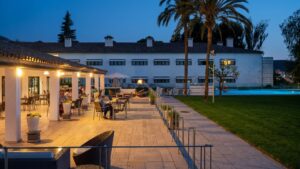 Antequera, located at the main crossroads of Andalusia, is an ideal starting point to get to know this region. If you come to rest, we recommend a sun lounger next to the pool, a drink on the terrace and the aroma of grass and flowers from the pleasant gardens. This environment is also ideal for your social celebrations or business meetings, for which we have at your disposal four rooms of different capacity, perfectly equipped.
The Parador is so pleasant and cozy that it will be difficult for you to leave its rooms, get rid of the soft luminosity of its rooms and the fresh and elegant color of its minimalist decoration, but it is still worth a walk through Antequera. It is worth knowing monuments that gave the city the Bronze Age, such as the Dolmen of the Cave of Menga, the Dolmen of Viera and the Dolmen of Romeral. Also waiting for your visit are the basilica of Santa María and the Alcazaba of Antequera, a castle that crowns and watches over the town since Roman times.
Contacto
Dirección: P.º García del Olmo, 2, 29200 Antequera, Malaga
Horario: 24 hours
Teléfono: 952 84 02 61
Sitio web: https://paradores.es/es/parador-de-antequera